Background of the exhibition | Works | Digital Tour | Tutorial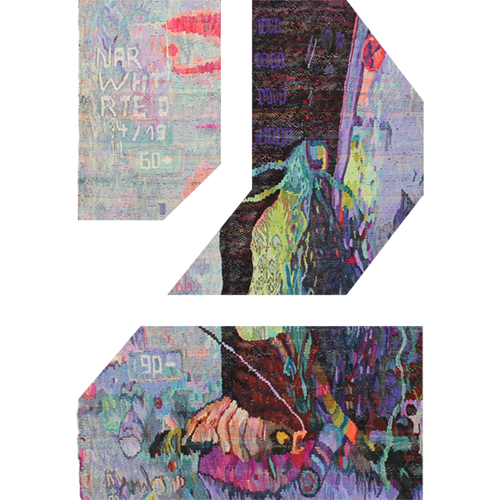 03.07.2021 – 21.07.21
Twisting your mind on textiles
Eröffnung am 03.07.2021 ab 17.00 Uhr
How do we connect to textiles? What ties can textiles as a material build within contemporary art practices and its audience? What stories do they reveal? What feelings do they evoke? Which information do they carry? The upcoming exhibition in Neurotitan gallery connects 13 international artists (from Bosnia and Herzegovina, Chile, Germany, Lithuania, Slovakia, Slovenia, USA) utilizing various art practices – textile art, installation art, photography, conceptual art, sound art, video art – focusing on textiles as their means of expression or inspiration on a sensorial and metaphoric level.
Martin Bricelj Baraga | Vanja Bučan | Mária Cukor | Katja Felle | Barbara Pia Jenič | Inga Likšaitė | Brad Nath | Juan Nazar | Mila Panić | Eva Petrič | Maja Pučl | Urh Sobočan | Kata Unger | Amalia Valdés – Kuratiert von Neža Peterle
In cooperation with

Sponsored by Neustart Kultur, Stiftung Kunstfonds.

Works
Sponsored by Neustart Kultur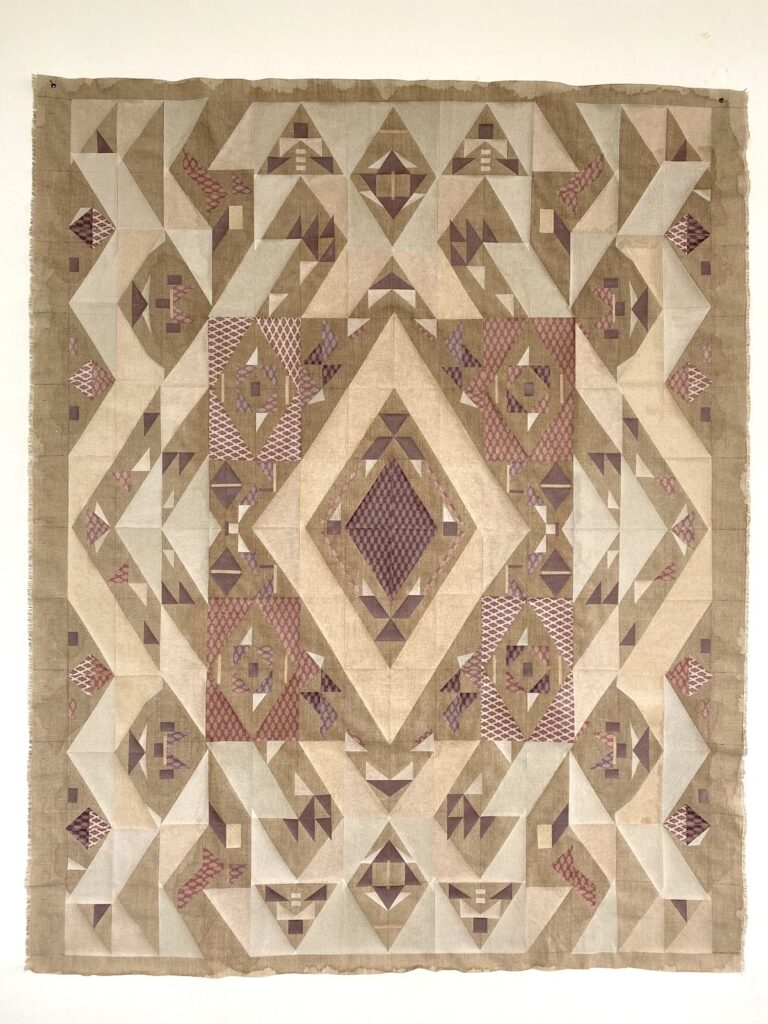 Amalia Valdes
Chilean visual artist Amalia Valdes works with pure and concrete forms of geometric language. In her works, she often relates to the collective unconscious through interpretations of sacred symbols from different pre-Columbian cultures. Also essential to her is the research of materials she uses in order to understand how they behave and react in different situations, while she puts an influence on them and makes them active agents of participation due to its condition.
For exhibition Interwoven she prepared a new work titled Searching for some memories (paper on linen) where she captures the viewer with an illusion of a fragmented ancient carpet, while at the same time trough positioning of its geometrical paper gradients she achieves a certain multi dimensional surface entity that makes your mind wandering in-between spaces.
My process with my art piece for Interwoven has to do with the precision involved in the manufacture of a weaving loom and at the same time the meditative process of weaving, embroidering, and doing the same exercise for a long period of time. For me, art is like meditating. In this work, I was especially interested in approaching craft and textile art, because it has also been a technique carried out by women for generations through generations. I am also interested in being able to paint with another medium, as in this case, with paper, to be able to surprise and create works that seem to have no execution.

Amalia Valdes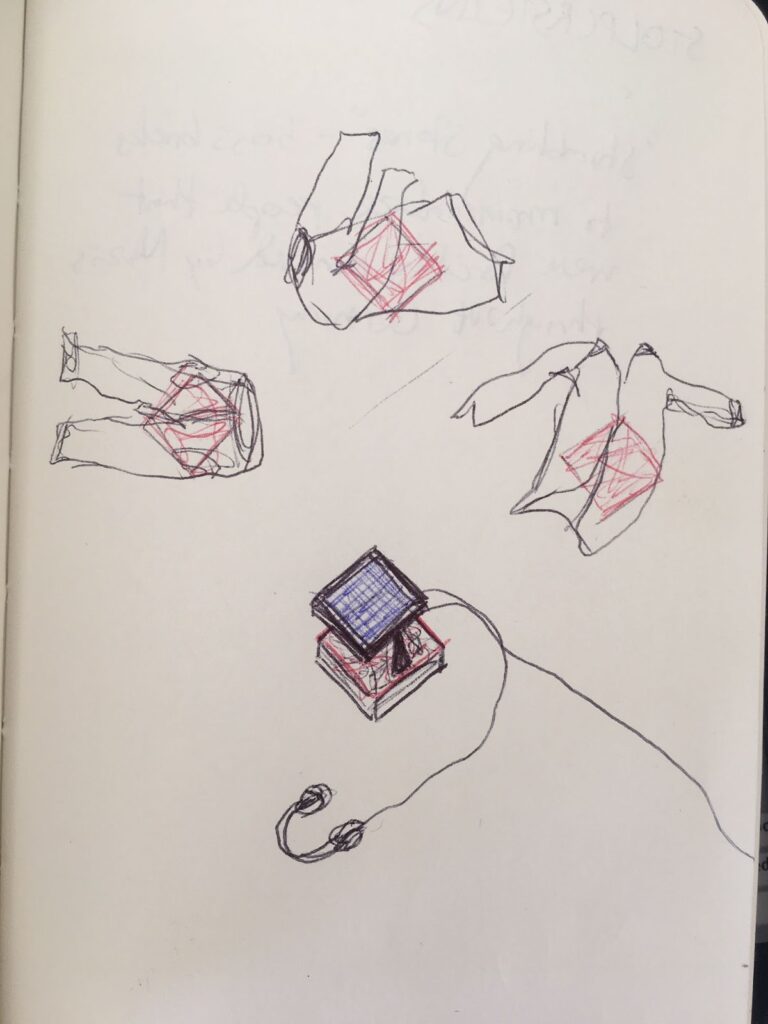 Brad Nath
American artist and performer Brad Nath is developing space-making techniques that construct new forms of empathy between humans and their environments. His material research, live performances (often with amplified bricks), sound structures and urban interventions intend to expose the agency embedded within the world we are building for ourselves. For the Interwoven he created a new piece in which he brings the concept of "urban fabric" of cityscapes together with the emotional capital of textiles.
Urban Fabric is a term typically used to describe the physical texture of a built environment at the scale of the city—including, for example, its enclosing wall surfaces, its rhythms of roads, dotted patterns of streetlamps, and its interconnecting pedestrian spaces. Dealing strictly with the materiality of a city, this way of conceiving of the built environment excludes the personal, socioeconomic, political, and environmental contributing factors of an urban space's current state—and of course, arguably, these are the actual factors that compose a city.

Brad Nath
In order to broaden the concept of urban fabric within its current frames he developed an installation that weaves the public space together with individual personal stories embedded within pavement in Berlin. This is achieved through an intervention in the sidewalk, whereas 3 newly made concrete pavement stones, with an imprint of textiles containing an emotional and memorable meaning to 3 chosen individuals (Nyla Sayman, Periklis Lazarou and Frank Wang), replace a currently loose pavement stone at their personal sites of significance. Through imbuing the public space with the textures of their precious articles of clothing, the built environment opens itself for a personal dimension to emerge.
The dialog between the public and domestic spheres through this artistic intervention continues at the gallery, where one finds the clothing that was used to produce the new stones alongside a paving stone with a monitor broadcasting the process of installing the fabric stones in the sidewalk. At the same time, audio stories are offered from the individuals who gave up their precious clothes, sharing insights to the listener about the private social dimension that now marks itself in the public space.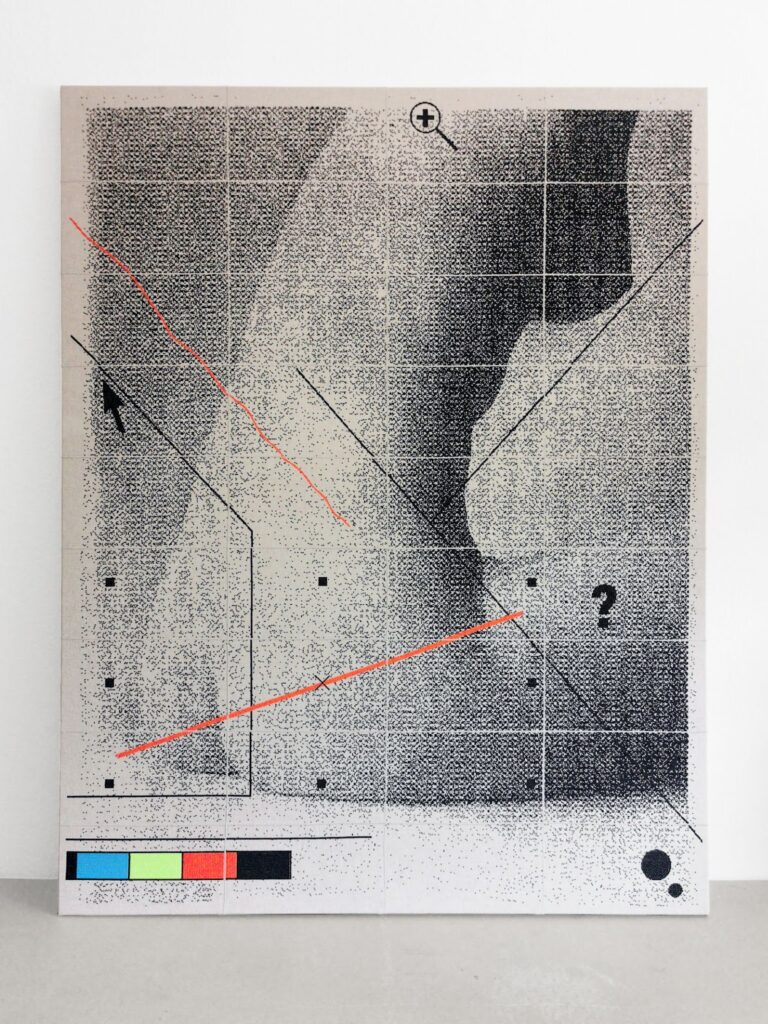 Inga Likšaite
Lithuanian visual artist Inga Likšaite – a true virtuoso and examiner of stitches – developed a prolific and unique aesthetic language, where the textiles, mostly recognizable as rhythmically stitched, moderated images appear as sewn, embroidered wall canvases.
In the exhibition Interwoven Likšaite is presenting her continuous series Body of Work, where she explores the theme of creation. By putting together geometric and textual artefacts of today's image culture, Likšaite leaves a space for the viewer to develop a broadly interpreted narrative. The series of large format embroideries are made using digital stitching, sewing and finished by hand. Physical textures merge with the ones that we perceive as digitally manipulated. The structure and tactility of the stitches encourage the viewer to have a very close gaze into the play of threads and emphasise the common character of textile art by which the viewer often develops a need of tactile contact with the art works.
Creativity as an intention, where intellectual mind, playfulness or transcendent state operate together as a generating energy for new matter to emerge. I deconstruct the notion of creative action. Play, problem, boredom, emptiness, calculation, irrationality, practicality, sight, hearing… it's a space where millions of particles work. The very concept of creation is already telling us about something unstable and changing. It is interesting for me to highlight such stages, when an impulse appears, the initial idea is examined, peeled out to find a core. There is a doubt, a denial, a discovery, and at some point a new matter appears.

Inga Likšaite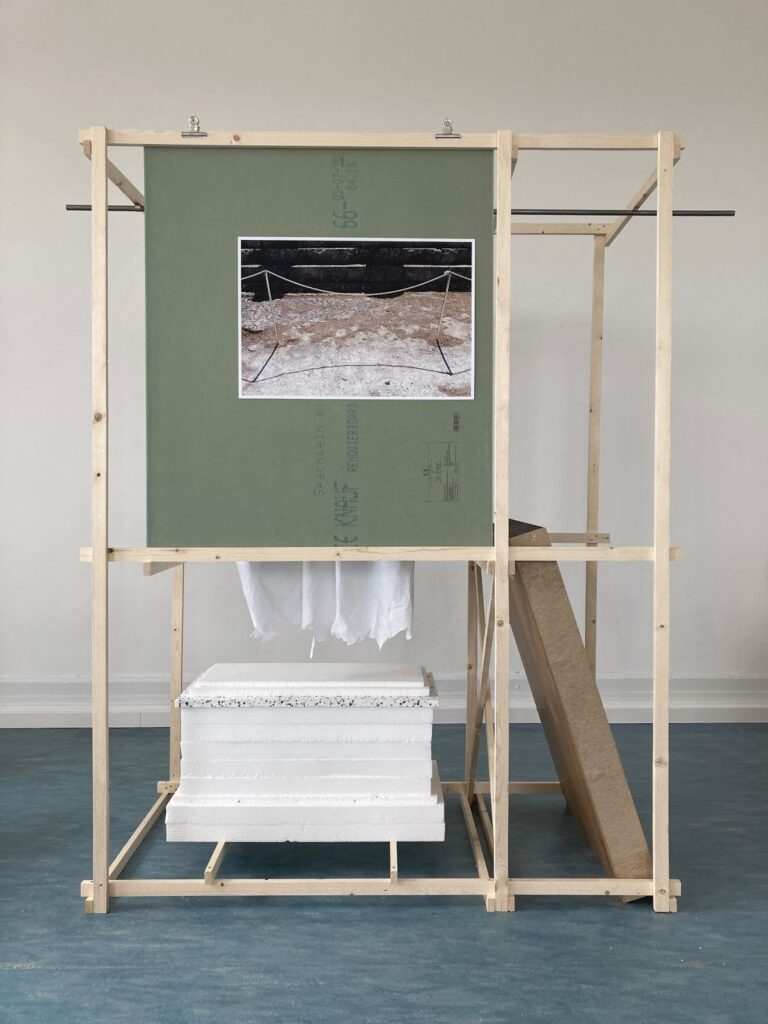 Juan Nazar
Chilean visual artist and architect Juan Nazar moves between different artistic media and researches the concepts of archeology, architecture and ruin as a representation of a past time in a dialog with present human intervention. To reflect upon our relationship with the past, he brings into his creations of new fictional monuments irony and humor through the choices of cheap materials, forms and ways of construction. His exploration deals with the idea of collect, cast, set up, and build from mostly fragmented images and objects, in order to set up a new body of material: a monument, and subsequently, a possible ruin.
Working with the concepts of archaeology and iconography, I take on the role of both creator and collector and considering that archaeological finds can have multiple meanings and readings, I wander the streets of the city in search of my own encounters, parts, and possible pieces of a new archaeology. I first classify them to then compose using photography, plaster mould things, and painting.

Juan Nazar
In his new piece Fällt auch die Sonne made for the exhibition Interwoven he included an additional material – textile – which hanging above a polystyrene pedestal functions as a white ghostly presence (or an ironic absence of a historically needed hero) and delivers an ephemeral atmosphere.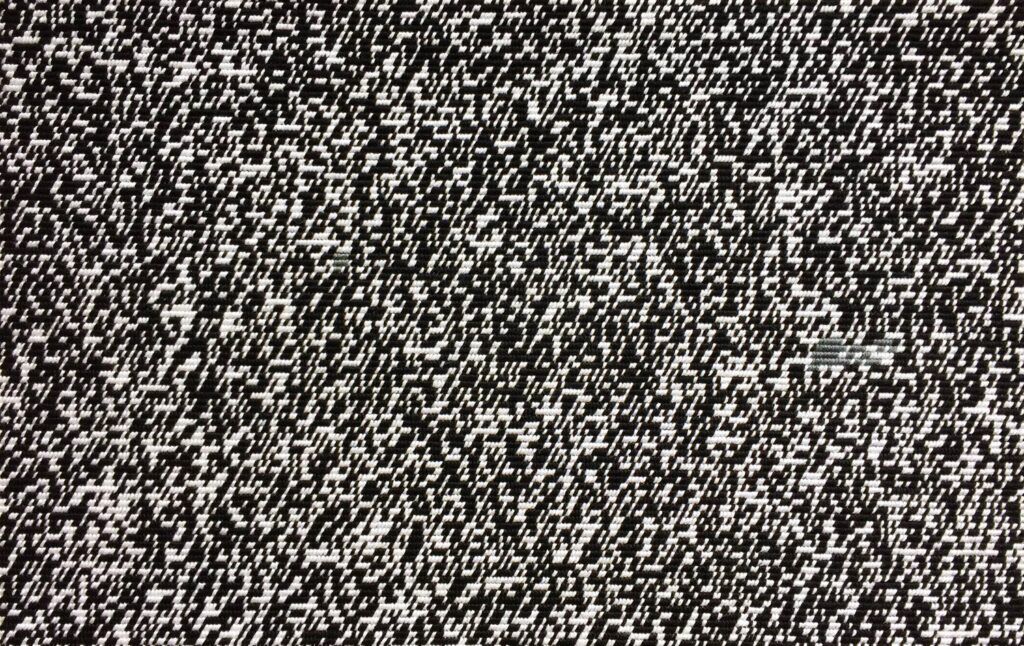 Katja Felle
Slovenian visual artist Katja Felle is involved in various artistic media, from painting, installations, video, gobelins to computer graphics. In her works she wants to raise her thoughts on how the flood of information we encounter on a daily basis, also due to the accelerating development of technology and technological innovation, affects us, our imagination, and how it shapes the reality in which we live.
Her works presented at the exhibition Interwoven – Tv Static Noise, Blue Screen and Skype – are concerned with the exploration of images from the world of the everyday media we all use. More precisely, she is interested in the glitches in communication that arise during the transmission of information through various media agents, which in this case she transfers into gobelins. Gobelins, previously popular within the bloom of textile industry and considered a trend in the culture of living, are nowadays mostly valued as amateur textile products and nostalgic decoration, carried out by older generations as a hobby craft. In the context of Felle's works we can reflect on the generational shifts in the perception and understanding of a gobelin image and change of lifestyle. Furthermore, its usage featuring modern media offers us the time to reflect on the moment which on a digital screen is temporary and passing.
Embroidery is a metaphor for living together and creating together, which is literally about 'connecting things together' and creating something new. The gobelin is a framed decorative tapestry. Today, television and computer screens in modern living spaces represent the eye of the world, the point of knowledge and new experiences, and the promise that we can achieve everything from the comfort of our own living room. The live screen image is placed where the gobelin once stood.

Katja Felle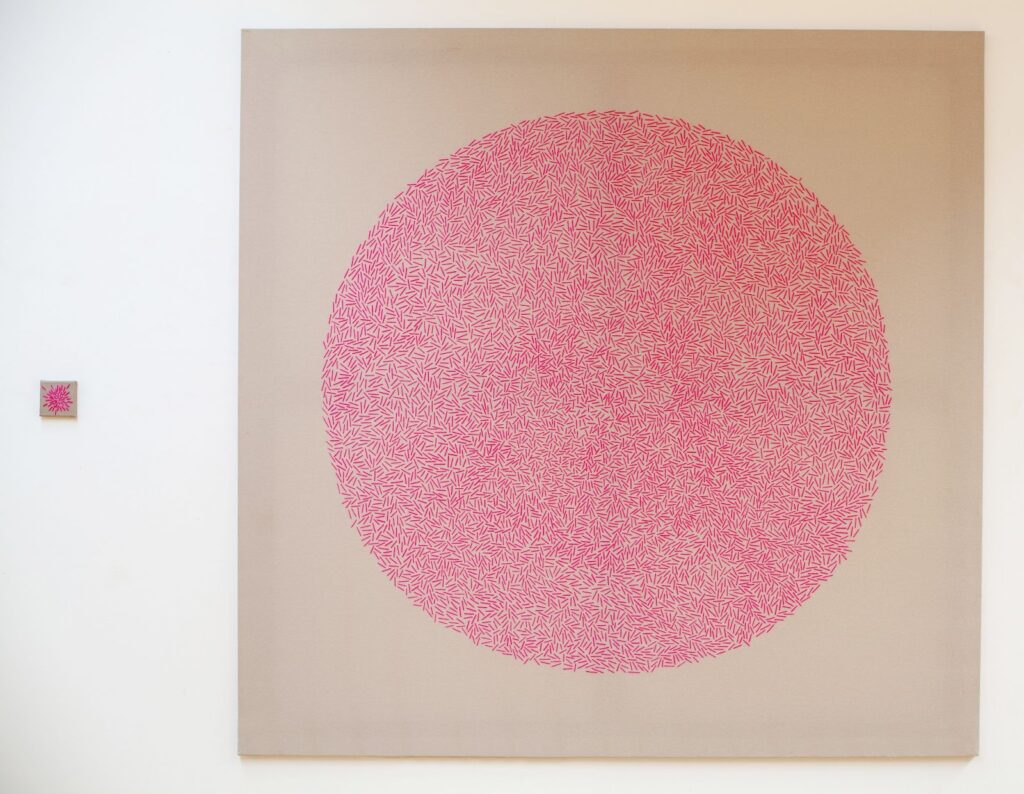 Maja Pučl
Slovenian visual artist and performer Maja Pučl works in the fields of painting, graphics, design, restoration, education, ambient installations, calligraphy and dance. Her work is more about the process of creating itself, it is about repetitiveness as a kind of meditation. Pučl swears on a minimalistic approach and mostly uses only one tool (pencil, brush, sewing machine, woolen yarn) and one color. In such a way she emphasizes the purity of the forms and offers a kind of visual silence and a broader playground for interpretation.
Embroidered canvas Heart presented at Interwoven is a personal meditation on her first pregnancy evolving in a playful post-period. Stitching has historically been a craft connected to womanhood, home, female empowerment, collective spirit, support and a means of narration. Closely observing Pučl's work one connects to these notions through disappearing and reappearing magenta stitches.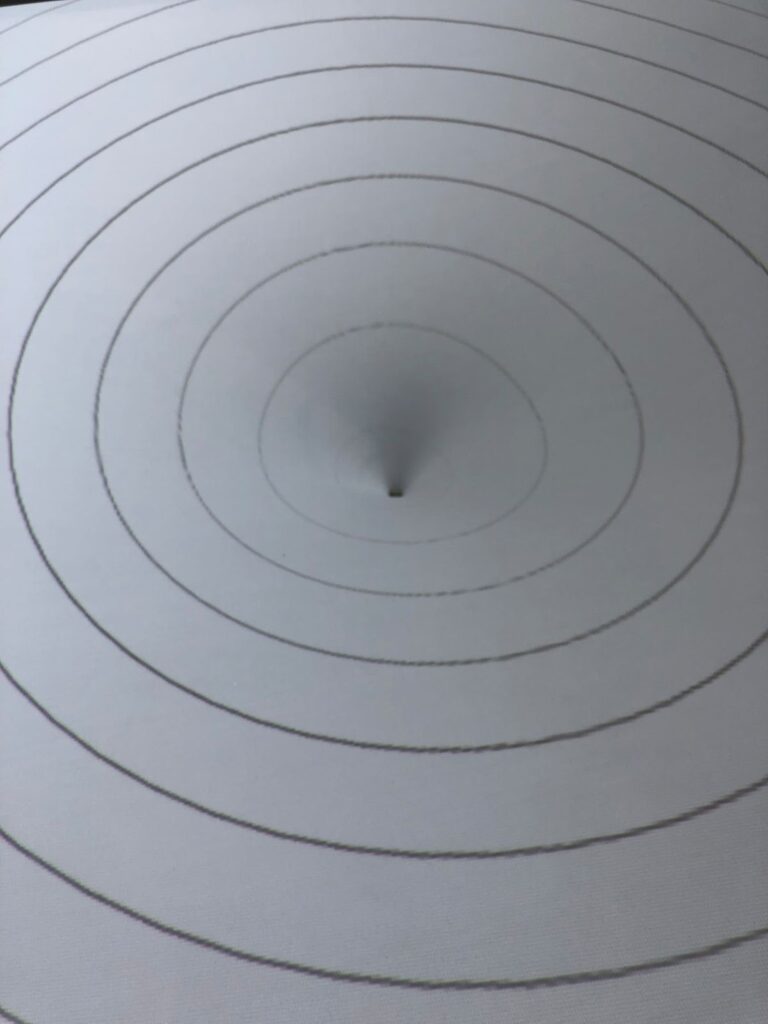 Martin Bricelj Baraga
Slovenian media artist and curator Martin Bricelj Baraga creates interactive works and sculptures that explore spaces between environment, nature, technology and humans. By using urban and natural environments together with light, sound and movement, he creates kinetic large-scale installations for public interaction, which can be mostly seen in public spaces and in unusual architectural contexts. He focuses on creating atmospheres that challenge our perceptions and question symbols and myths as a series of time and space-based experiments.
For the exhibition Interwoven he developed a special version of DROP, an audiovisual installation that sonifies the melting of ice in time through days, months, years, using the lycra textile as a projection surface. DROP is based on a data visualisation and sonification piece developed by Baraga and Fracion. The composition that visualises drops as a metaphor of melting ice transforms rapidly as we move towards the present moment – clearly reminding us of its urgency. The dataset is used from project IMBIE, a collaboration between scientists supported by the ESA (European Space Agency) and NASA (National Aeronautics and Space Administration).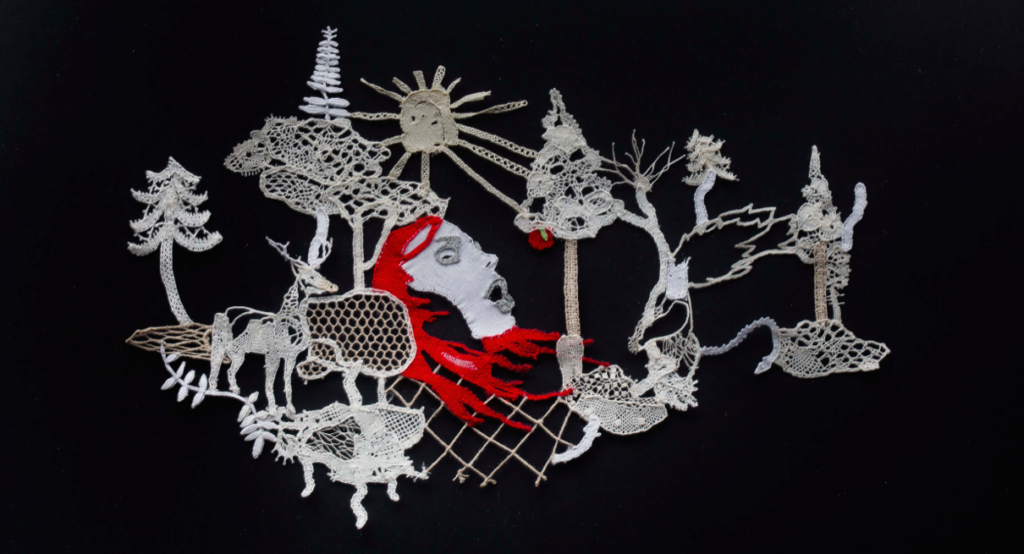 Urh Sobočan
Slovenian graphic designer and illustrator Urh Sobočan has increasingly developed a devotion to his family heritage of bobbin lace making (weaving, braiding and looping of two or more pairs of thread) while studying at the Central Saint Martins College of Art and Design in London. The experience of being a foreigner in a 'floaty' global capital made him long for a deeper stability and connection with his background, which resulted in a visual intersection of two worlds – contemporary digital illustration and traditional Slovenian craft of lace making. In 2006 he started an experimental collaboration with his grandmother Iva Sobočan, lace maker from Žiri (historically one of the centres of lace making in Slovenia), and together they developed a technically innovative lace illustration with a very unique style. While Urh created a digital illustration mostly inspired by personal, existential states of mind, fairy tales and family history, Iva was trying to find technical solutions to its realisation with her lace making colleagues. To illustrate, for a general lace product one would usually use 3 to 4 techniques of lace making, for Urh's illustration they needed to combine up to 40 different techniques in order to be able to execute it.
Importantly, the intergenerational dialog between Urh and Iva dramatically broadened the expressive range of the traditional craft and achieved an outstanding originality in a form of modern illustration. With their innovative process of lace illustration they relieved the lace of its traditional decorative role and gave it the role of narration and artistic value.

At the Interwoven exhibition he presents 4 handcrafted linen lace illustrations. In Grind he reflects on his student experience of London and its bliss and misery – the duality of this city. In Birth we witness the birth of a new family member and saying farewell to an old family member, followed by the entrapment of passing time and the incapability of two generations to really meet. While Temptation narrates about the concept of self-temptation, Dance lures us into the secret world of fairy tales.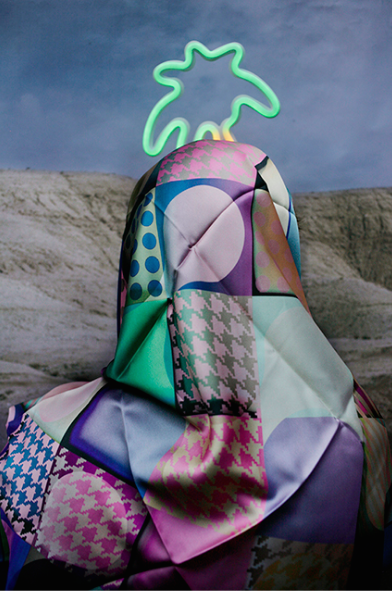 Vanja Bučan
Slovenian photographer Vanja Bučan focuses on staged photography and perceives photography as a realm where she can freely express her views and critique of society. In her distinguishing artistic style, she alters her own photographs and places them in staged compositions in order to achieve deconstructed and multifaceted realities that generate a visually rich expression. Throughout her photographic oeuvre one can observe a significant role and meaning of textiles.


In selected works from the series Looking for Sadiq and Bestiary, presented at exhibition Interwoven), Bučan unconsciously flirts with clothing as the identity of a particular living environment, as well as clothing as a raw material in relation to nature. The textures of the natural environment are intertwined with the symbolism of the costume. Bučan creates 'fictional' ecosystems and adds new meanings and interpretations to her still lifes with textiles or clothing. The importance of textiles as a raw material is not purposeful but only contextual, it only indicates human socialization and domination over the living space.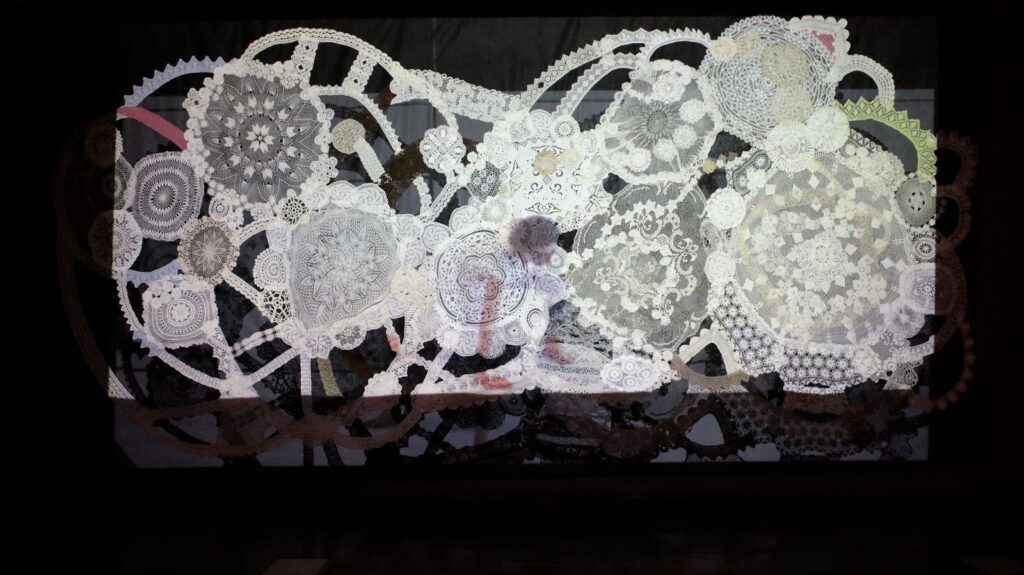 Eva Petrič
Slovenian multimedia artist Eva Petrič creates within the fields of photography, video, performance, installation, sound and literature. One of her main artistic engagements is to create space: physical space, mental space, visible space inside space, imaginary space, metaphorical space, all defined by atmosphere, while connecting various media and observing the connections between them. Since 2012 Petrič has been creating monumental recycled lace assemblages made from donated and collected hand made lace, which tell a story about the sentimental value of textiles throughout the lives of individuals and their wish for the participatory role of donated lace in a contemporary artistic interpretation. Lace from all around the world, united in an artwork by Petrič, carries a message of collectivity, female empowerment and reverence of tangible cultural heritage that has been passed in a form of lace making from generation to generation, mostly among women.
At exhibition Interwoven Petrič is presenting Astrocyte Garden's Visitor – composed of a lace assemblage called Astrocyte Garden and the video Visitor with a kind of hologram body, of which subtle presence "is also a comment on the slyness of technology into our lives and its literal 'getting under our skin' without us even really noticing it."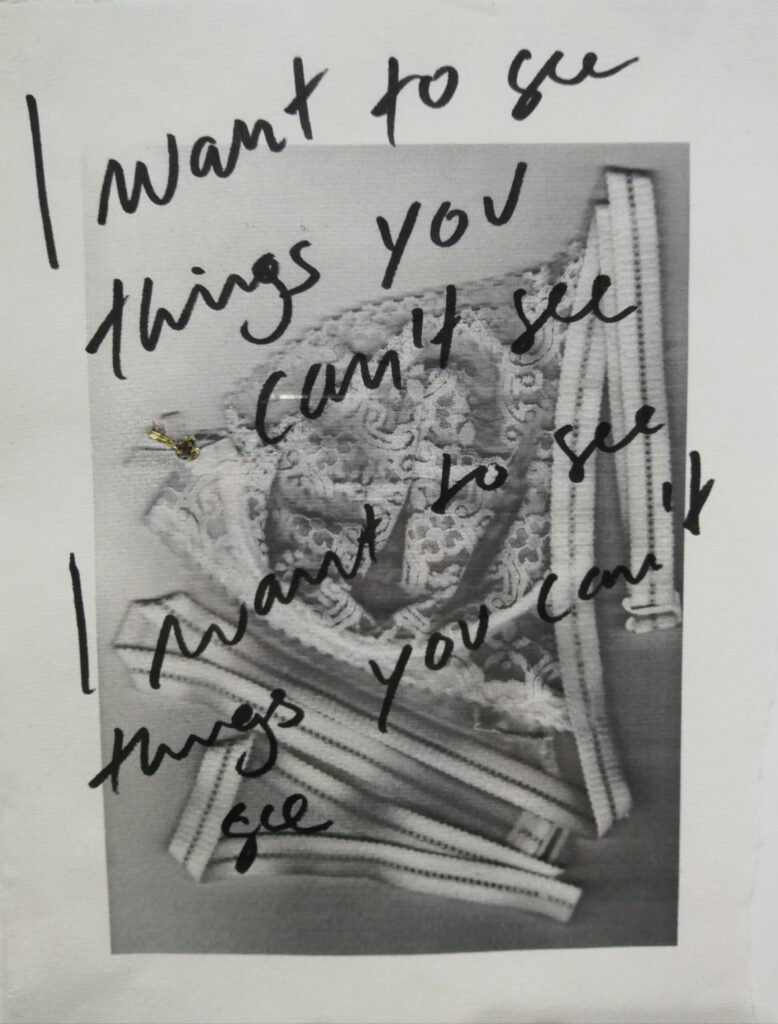 Mila Panić
Bosnian visual artist Mila Panić questions the existing narratives of diaspora and issues related to the phenomenology of place, such as the expanded notion of belonging, always allowing her personal experience to emerge. In this process, Panić addresses the constant aspiration for a better life and integration, counterbalancing personal expectations and guilt with intimacy as a tool for resistance. As Panić puts it:
Considering the nature of my work where the movement, migration and notion of home always overlap, I can say I am interested in the comfort and discomfort of living and creating in-between places and contexts and their relations.

Mila Panić
Panić has prepared a new series of mixed media works on paper for the Interwoven exhibition titled Mother's, where she presents two bras that, in this context, become the medium of closeness, the only garments that the artist spontaneously kept for herself from her mother. The work has been created in the desire to reconcile with her mother and due to the lack of the presence and closeness of the mother at the moment when the artist became a woman. While these images are intensely personal and the symbolic dimension is defined by the artist, they nonetheless transgress the sphere of pure intimacy. The work evokes a posthumous intimacy in which objects become powerful repositories of human touch.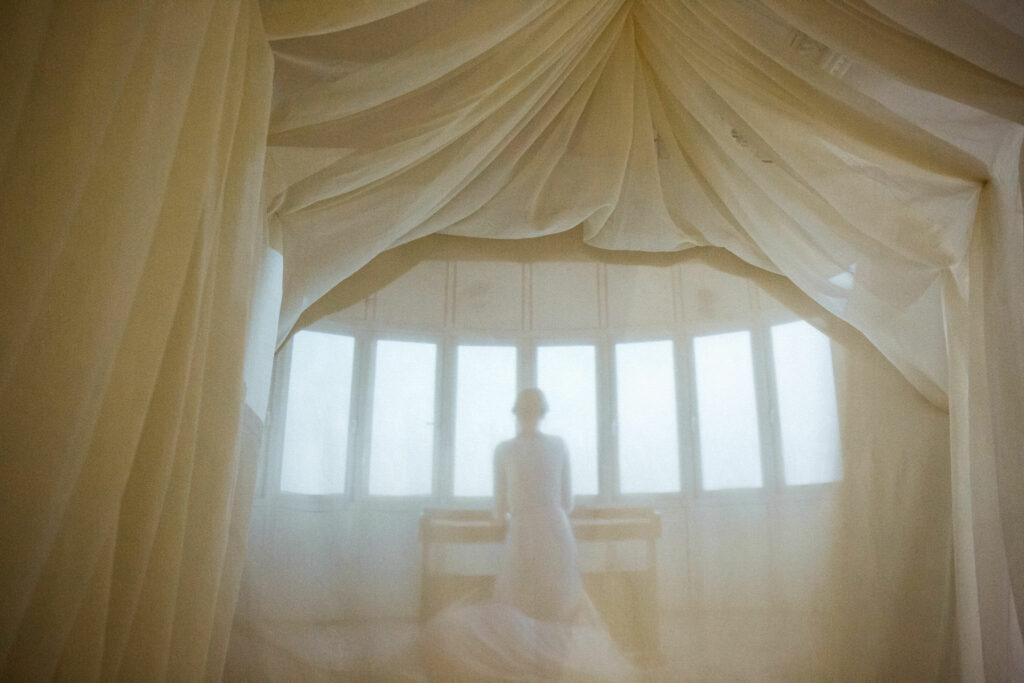 Maria Cukor & Barbara Pia Jenič
Slovakian multimedia artist Maria Cukor describes herself as an interdisciplinary creator who has developed strong feelings for nature and living organisms due to her upbringing in a town between two national parks. Most of her works are made out of up-cycled materials or fabrics she found in the attic, second-hand stores and flea markets.
Slovenian theatre director and researcher of sensorial art Barbara Pia Jenič is a pioneer of sensorial art in Slovenia. She produces theatre performances in which she invites her audience to open all of their senses and enables them to experience art on a more holistic level. Jenič also researches the impact of scents and olfactory art on other art forms and explores the influence of scents on people's psyche and their perception of an artwork in the theatrical, performing, visual and auditory arts.
Cukor created a textile installation in which visitors to Interwoven can experience her short movie The Door Opens in the safe embrace of textiles and the fragrances designed by Jenič. The Door Opens is a short motion film based on the performance project which gathers Cukor's interests in the world of music, stage arts and craft.
It is a ritual, a prayer, opening the door that should never have been closed in the first place. How much of the inner world can survive daylight? How many visions do we allow to come true? Following and loving the constant of transformations within while exploring the workings of essential invisibles.

Maria Cukor
Jenič designed the scents interpreting Cukor's movie and collecting the feelings it evokes.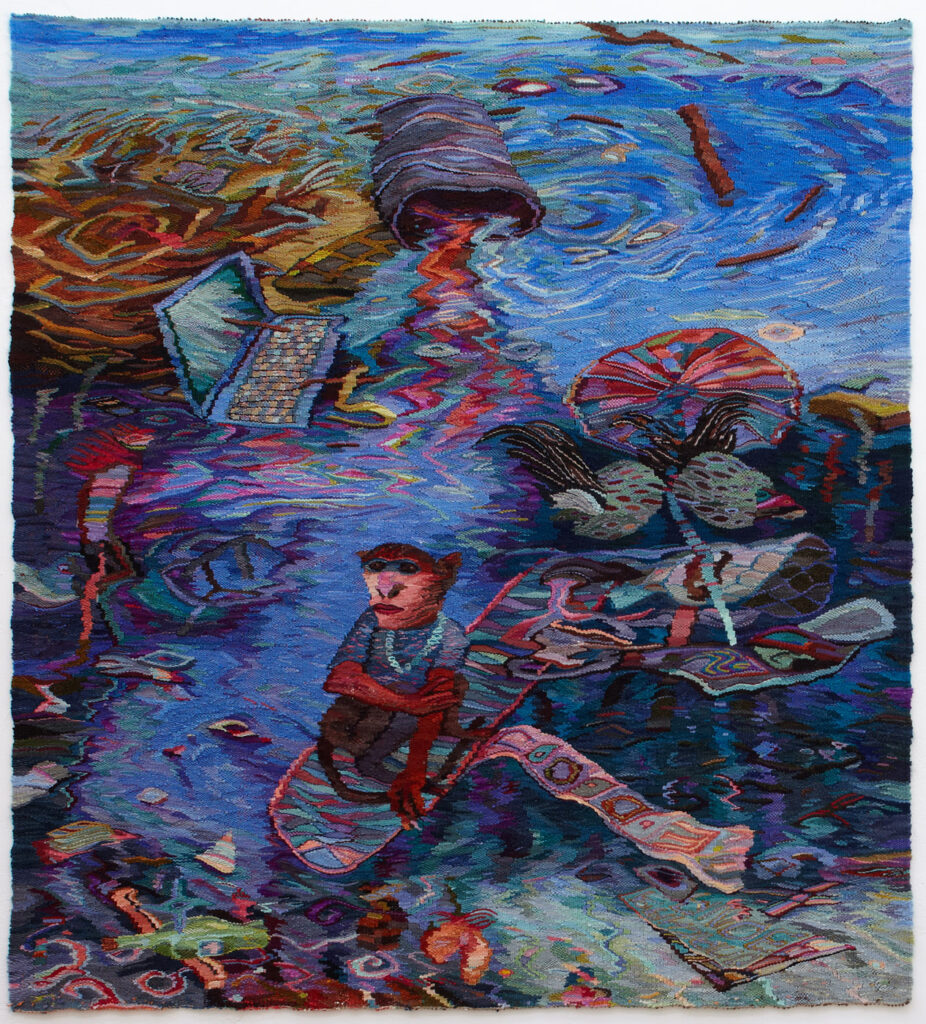 Kata Unger
German visual artist Kata Unger bedazzles with outstanding large-format tapestries that come from the tradition of punk, Dadaism and subculture and function as a synchronicity of an object, painting and drawing. Unger's tapestries offer a complex, intellectual and philosophical meditation on our society and simultaneously strike us with the vivid colours of Unger's self-dyed wool, a highly aesthetic visual language and a contemporary perspective on weaving as one of the oldest arts of mankind. Woven abstract terms in Unger's works are not just the materiality of the word but also the referentiality of new discourses.
She presents the tapestry E-Zone at the Interwoven exhibition. Through this tapestry, we are immediately driven into a depicted world, surrounded by bright, lively colours and a grotesque scenery, while trying to explore objects in water and find connections between them. As C. G. Bellmer observes, one can understand that "the represented scenery does not originate from a droll fairy tale world and we have an idea, this is the tragedy of Agbogbloshie in Ghana, the largest landfill for electronic waste from Germany in Africa […] on the banks of the once enchanting Korle Lagoon."
Digitaler Rundgang
Tutorial
In the video tutorial, artists Tau Pibernat and Elena Sofia Stranges explain in simple steps how to re-dye old fabrics with natural colors.
Sponsored by Neustart Kultur